Perfect to remind you of sandy days at the beach. When you are wearing these you can almost smell the salty air and feel the cool waves lapping your toes ;)


I thought I'd take the opportunity to post some images of some of the recent beach stone bracelets I've made. I've been stashing my drilled pebbles as I'm hoping to make quite a few more pieces in the coming weeks for an upcoming local craft fair.

So for those new visitors to my little blog, this is the kind of thing I make. Here are some of my bracelets...


Flip Flop and Pebble Charm Bracelet
Mediterranean beach pebble charms and Greek teal ceramic beads adorn this antique copper bracelet. It's feature piece is a copper hand crafted flip flop resting on a sandy beach stone. The bracelet is finished with a heart toggle clasp which is easy to fasten and secure.
This bracelet is surprisingly light, beautifully easy and comfortable to wear and measures 21cm in length (all of my bracelets can be adjusted to a longer or shorter fit on request).
I have personally collected all of these tiny pebbles from the shores of sunny Cyprus where I have polished and hand drilled them ready to deliver a little bit of the coast to my customers. The cute flip flop charm was also handmade by myself.
These smooth pebble bracelets remind me of Thornton's chocolates. Of course you can't get Thornton's in Cyprus :( These are much less calorific though! I love the way the antique copper compliments the natural stones.
They are surprisingly really light to wear and the smooth pebbles next to your skin are very comfortable.
Chocolate Creams - Thorntons without the calories!
I have several different chocolate combinations in this range. Every piece is completely unique - true 'One of a kind' natural items, which is of course what we all love about handmade artisan's work.
The toggle clasps on these bracelets make for a simple and easy closure. Unlike lobster clasps which can be very fiddly they can be closed by the wearer and help from a 2nd pair of hands isn't called for!
At the same time they are very secure and I have never had one come undone on it's own.
Chocolate and copper natural beauties combined!
Some of my bracelets are made with smaller pebbles measuring approx 1.5cm in length each. These little guys can be tricky to drill, but the results are worth the effort. Cute little pebbles adorning your wrist remind you of sunny days at the beach!
Not quite 50, but definitely a few shades of grey!
Mediterranean beach pebbles in cool shades of grey with silver plated wire accent swirl. The bracelet is finished with a hand crafted 'S clasp' which is easy to fasten and secure.
Silver and cool grey tones - perfect!
I occasionally come across really pretty pink coloured pebbles on the shores of Episkopi here in Cyprus. Maybe it's because they are rare that I love to find them the most! I made this very girly pink pebble charm bracelet with my last lot. It's sold now, but I have been collecting some more pink stones and will be making something similar soon.
I love adding a touch of sparkle with Swarkovski crystals. I feel the crystals compliment the natural beauty of the beach stones and sometimes help to bring out the colour palette.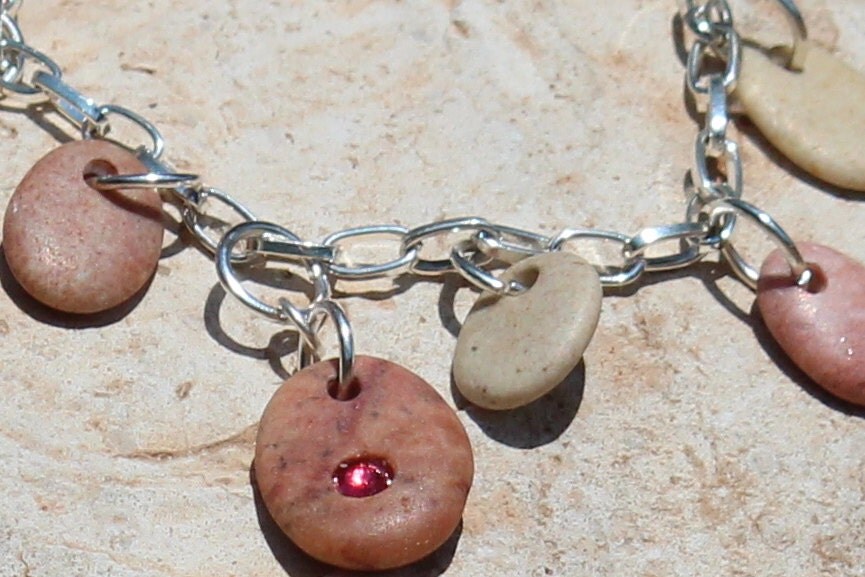 I hope that's given you a taste of my style of Jewellery making. Thanks for looking, and of course if you are interested in purchasing any of my jewellery or browsing the rest of my lines please click any of the the photo's and they will link you straight to my etsy shop where you can buy securely online.

Just to add, if you like my style but have something else in mind, please drop me a line either in the comments on this post or in a message via etsy or on my facebook page as I'm open to custom orders.